Please click here to see the final artist selection for the London Art Biennale 2021
General Information
Artists can apply for the 5th edition of the London Art Biennale at the bottom of this page.
The exhibition will take place from the 30th June to the 4th July 2021.
All exhibited work has to be approved by the London Art Biennale Selection committee.
Approved artists are invited to attend the Biennale inauguration with guests but there is no actual requirement for artists to be present during the Biennale.
Approximately 400-500 artists will be selected from all around the world.
An artist can apply with a maximum of three artworks and each artwork will be judged individually.
Accepted artistic disciplines include works on canvas, works on board, works on paper, applied arts, photography, digital art, video art, sculpture and installation.
Artists can apply from any nation and at any stage of their careers and from any nation.
In the unlikely event that COVID persists until June 2021, the exhibition may be delayed but will not be cancelled in any circumstance.
Application deadline: 13th April 2021.
---
Awards & Prizes
£5,000 GBP London Art Biennale Award
£1,500 GBP London Art Biennale Award for Painting
£1,500 GBP London Art Biennale Award for Sculpture/Installation
£1,500 GBP London Art Biennale Award for Works on Paper
£1,500 GBP London Art Biennale Awards for Digital Work/Video
25 artists to be selected for a 10 day exhibition at Gagliardi Gallery in London

25 artists to be selected for month-long group show at the Chianciano Art Museum, Italy

25 artists to be selected for a month-long group show in the art galleries surrounding the 12th Century Piazza of Chianciano Terme, Italy
5 artists receive a week's stay in a suite in Tuscany at the Art Club Boutique hotel with a private studio to create art and work
Art Critique by the International Confederation of Art Critics for 5 artists
---
Copyright & Social Media Permission
With artist permission, we may post some artwork images of submissions on our social media to promote the Biennale. The instagram is just a little fun/extra promotion but not required. If you have an account and would like to be posted please feel free to include your account name in your application. We can only post a few artists on social media, and social media has no influence on the final artwork selection presented at the Biennale.
Artists that are subsequently approved for the Biennale agree for their work to be published on our printed catalogue.
Sales
Exhibited artworks do not need to be for sale, it is the artist's choice and artworks can be exhibited as "not for sale".
For artworks that are for sale, prices and information will be available with the London Biennale staff who will provide professional and experienced sales staff.
The London Art Biennale retains 30% commission on sales during or following from the exhibition (sales following the Biennale only include sales for which we negotiate and process the payment within 3 weeks of the Biennale. Any private sale after the Biennale are not subject to commission).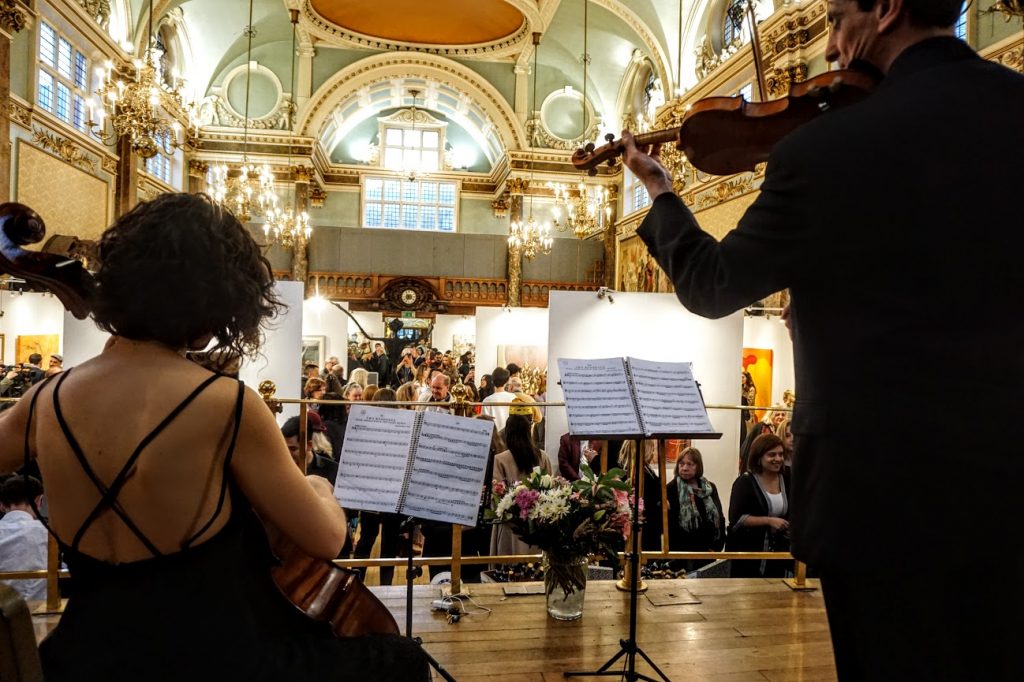 Printed & Online Catalogue
Each artist will have one A4 page with one work published in the hardcopy and online catalogues.
Hardback copies of the catalogues can be purchased online by participating artists with a 10% discount.
Hardback catalogues will be available for purchase at the Biennale, on our website and on Amazon.
Application Fee
There is an application fee for the London Art Biennale of £36 GBP per artwork submitted. The fee covers admin costs and is non-refundable regardless of the outcome of the selection process.
Once an artwork is accepted for exhibition there are no other fees for artists.
Curatorial Study
All artworks on canvas, panel or paper must be framed and ready to hang.
All artworks are hung and curated by the Biennale team.
There is no requirement for an artist to attend the Biennale personally.
Artwork Transport
Artworks can be shipped in advance or delivered by hand directly to the venue. We will send the designated shipping address in due course.
To reduce transport costs, there is also the option to send canvases/works on paper rolled so that they can be stretched/framed locally (costs of stretching and framing apply for this option).

Transport is the responsibility of the artist
How to Apply
Submissions can be made personally by artists or on behalf of artists
Click on the button "Apply Now" below to enter the application process
Applicants receive an email with instructions (Submission Certificate) on how to send artwork images and details. If you do not receive our email within 1 hour please message us on WhatsApp, call us or email us from our contact page
Artwork images and details do not need to be sent at the time of online application provided we receive artwork images and details by the 13th April 2021 by 11.59pm (BST)
---
THE SELECTION PROCESS DEADLINE HAS PASSED AND WE ARE NO LONGER ACCEPTING SUBMISSIONS
---