Apply for the London Art Biennale 2021
General Information
The 5th edition of the Biennale takes place from the 30th June to the 4th July 2021.
All exhibited work has to be approved by the London Art Biennale Selection committee.
Approved artists are invited to attend the Biennale inauguration with guests but there is no actual requirement for artists to be present during the Biennale.
The process may close before the established time if the curators achieve the perfect quality and number of artworks for the exhibition.
Approximately 400-500 artists will be selected from all around the world.

An artist can apply with a maximum of three artworks and each artwork will be judged individually.

Accepted artistic disciplines include works on canvas, works on board, works on paper, applied arts, photography, digital art, sculpture and installation.
Artists can apply from any nation.
---
Awards & Prizes
£5,000 GBP London Art Biennale Award
£1,500 GBP London Art Biennale Award for Painting
£1,500 GBP London Art Biennale Award for Sculpture
£1,500 GBP London Art Biennale Award for Works on Paper
£1,500 GBP London Art Biennale Awards for Digital Work
25 artists to be selected for a 10 day exhibition at Gagliardi Gallery in London

25 artists to be selected for month-long group show at the Chianciano Art Museum, Italy

25 artists to be selected for a month-long group show in the art galleries surrounding the 12th Century Piazza of Chianciano Terme, Italy
5 artists receive a week's stay in a suite in Tuscany at the Art Club Boutique hotel with a private studio to create art and work
Art Critique by the International Confederation of Art Critics for 5 artists
---
Copyright & Social Media Permission
With artist permission, we may publish artwork images on our social media or to promote the Biennale (press articles etc).
Social media has no influence on the final selection, however, during December, with express permission from the artist, at least five submitted artworks will be selected each week and posted on our social media. Artworks that receive more than 500 Instagram likes on our profile will be shortlisted for the second phase of the selection process. A step closer to being approved for the exhibition.
Artists that are subsequently approved for the Biennale agree for their work to be published on our printed catalogue.
Sales
Prices and information will be available with the London Biennale staff who will provide professional and experienced sales staff.
The London Art Biennale retains 30% commission on sales during or following from the exhibition.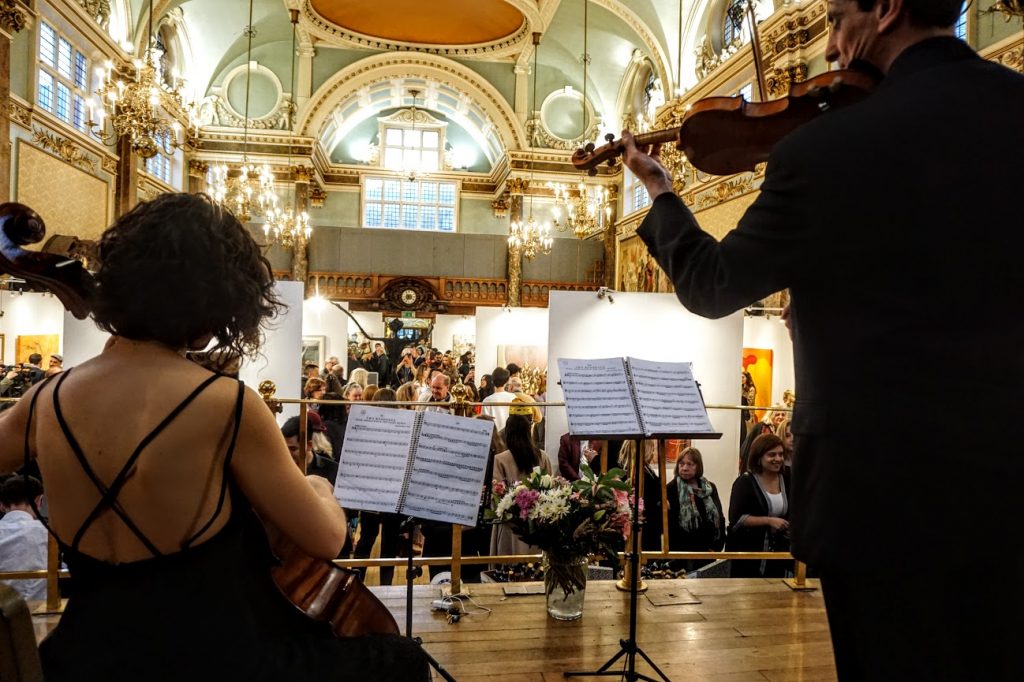 Printed & Online Catalogue
Each artist will have one A4 page with one work published in the hardcopy and online catalogues.
Hardback copies of the catalogues can be purchased online by participating artists with a 10% discount.
Hardback catalogues will be available for purchase at the Biennale, on our website and on Amazon.
Application Fee
There is an application fee for the London Art Biennale of £36 GBP (inclusive of VAT tax) per artwork submitted. The fee covers admin costs and is non-refundable regardless of the outcome of the selection process.
Once an artwork is accepted there are no other fees for artists
Submissions cannot be withdrawn at any stage of the selection process
Curatorial Study
All artworks on canvas, panel or paper must be framed and ready to hang.
All artworks are hung and curated by the Biennale team.
There is no requirement for an artist to attend the Biennale personally.
Artwork Transport
Artworks can be shipped to the Biennale ready to hang/be exhibited . We will send the designated shipping address to approved artists.
To reduce transport costs, there is also the option to send canvases/works on paper rolled so that they can be stretched/framed locally (costs of stretching and framing apply for this option).
Artworks can be personally delivered by hand to the exhibition venue only on Sunday 27th June from 10am-6pm or on Monday 28th June from 10am-1pm

Transport is the responsibility of the artist
How to Apply
Please click on the button below and select the number of artworks with which you would like to apply (maximum 3 artworks per artist)
Artists will then receive an email with instructions of how to send artwork images and details. If you do not receive our email within 1 day please call us or email us from our contact page
Artwork images and details do not need to be sent at the time of online application and can be sent at a later date
---